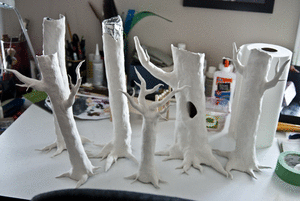 Oh it's been a while I know... but I'm back!
These are some sneak peeks of the piece I've been working on. I must say it turned out better than I expected. The plan was to do a piece that was set based, not so much revolving around a character or a well known person. Everything I sculpted got painted in fluorescent paints for the purpose of getting photographed under blacklight (ie. the purple light that makes whites glow blue in the dark). I did some research about which paints to buy since not even a normal white paint will glow under blacklight, so I purchased some specific paints online. I just felt like I needed to let loose and do a over super fun and crazy, over the top piece. Can't wait to share it.
I'm also working a new website design currently, which I'm pretty excited about. It'll be a lot more fresh looking and easier to browse through all my works. And of course an updated logo.